Star Wars Stormtrooper Accessory Bundle - Bodysuit Neck Seal Gloves - Exclusive to Stormtrooper-Costumes.com
---

£ 64.99

€ 71.49

$ 84.49
---
NUMBER ONE SUPPLIER OF STORMTROOPER ARMOUR
---

---
Product code: JR 3268
Low Cost Postage Worldwide
ADD TO CART
Product Details
Star Wars Stormtrooper Accessory Bundle - Bodysuit Neck Seal Gloves - Exclusive to Stormtrooper-Costumes.com
Please give the neck seal size required in the 'Additional Comments' section when placing your order.
Stormtrooper Bodysuit
The Stormtrooper Shop Bodysuit's fabric reacts to all kinds of different conditions, from excessive heat to extreme cold. In warm weather, perspiration is removed from the skin surface keeping the wearer cool, in cold conditions the natural thermal properties of the fabric allow body heat to be retained.
The Bodysuit is lightweight, durable and very comfortable.
****Double Zip System for Toilet Access****
Sizes Available:
Size
Max. Chest Size
Max. Height
inches
cm
feet/inches
cm
MEDIUM
32"
81cm
5'6"
168cm
LARGE
34"
86cm
5'8"
173cm
XL
38"
96cm
5'10"
178cm
XXL
44"
112cm
6'2"
188cm
Stormtrooper Neck Seal
Every Stormtrooper Costume requires a Neck Seal to cover your exposed skin.
Exclusive to Stormtrooper-Costumes.com, we present the best neck seal available.
Beautifully hand made with very soft cotton and the outer area is covered in faux leather. The Stormtrooper Neck Seal is fastened with velcro.
Stormtrooper Neck Seals are available in medium and large sizes.
| | | |
| --- | --- | --- |
| Size | Neck Girth (inches) | Neck Girth (cm) |
| MEDIUM | Up to 16" | Up to 41cm |
| LARGE | Up to 18" | up to 46cm |
Please include the neckseal size required in the 'Additional Comments' section when placing your order.
Stormtrooper Gloves
These are probably the best Stormtrooper Gloves available. Made with black thermal stretch fabric throughout with Hook and Loop strapping sewn onto the rear for your Hand Armour.
No need for elastics or velcro straps anymore. Be 100% confident in the heavy duty 75mm wide x 45mm high, loop black strapping sewn onto the back of your glove, ready for your hand armour plate.
The glove covers the wrist over or under your bodysuit sleeve exactly as you would want.
Available in one size and supplied with white adhesive hook strapping for your hand armour plate (not included)
Care Instructions for Bodysuit and Gloves:
Cool wash with mild detergent, air dry, no heat.
Related Products: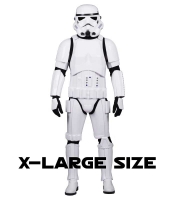 ---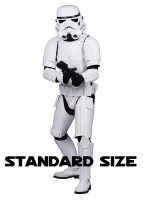 ---