Custom Painted Clone Trooper Blaster DC-15S - Matte Black
---

£ 44.99

€ 53.99

$ 58.49
---
IN STOCK NOW - QUICK DELIVERY - EASY RETURNS
---

---
Product code: JR 3540
FREE UK POSTAGE and Low Cost Postage Worldwide
ADD TO CART
Product Details
Custom Painted Clone Trooper Blaster DC-15S - Matte Black
This item is a plastic Toy Blaster which has been sprayed Black for costume accessory indoor use only.
Check out our Clone Trooper Blaster exclusively from Jedi-Robe.com an essential addition to your Trooper Costume....
This Clone Trooper Blaster is a modified toy, available to be used with a Trooper Costume or for display purposes; we do not recommend you purchase this for a young child.
The dimensions of the blaster are Height - 6" (15cm), Length - 17.5" (44.5cm) and Width - 2.5" (6.5cm).
Related Products: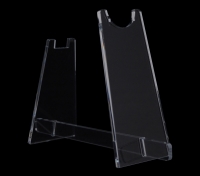 Star Wars Blaster Stand
Star Wars Blaster Stand Now you can display your Replica prop on this very well crafted acrylic stand. Great quality and a great price. Suitable for Stormtrooper E-11, Han Solo DL-44 ...
---