Star Wars X-Wing Fighter Pilot Comm Pad
---

£ 12.99

€ 14.29

$ 16.89
---
NUMBER ONE SUPPLIER OF STORMTROOPER ARMOUR
---

---
Product code: JR 4115
Low Cost Postage Worldwide
ADD TO CART
Product Details
Star Wars X-Wing Fighter Pilot Comm Pad
Armour parts can accessories can take 7 - 10 days to prepare.
The perfect addition to your X-Wing Fighter Pilot Costume.
Comm Pads were an accessory used by X-Wing Pilots in the Star Wars Films.
This accessory is made from 2mm ABS plastic, and measures 4" x 3.25", raised in the centre to fit comfortably on your forearm.
Related Products: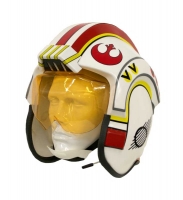 ---