Star Wars Stormtrooper Costume Armour - Kit Version 1 - No Helmet
---

£ 690.00

€ 759.00

$ 897.00
---
NUMBER ONE SUPPLIER OF STORMTROOPER ARMOUR
---

---
Product code: JR 3072
Low Cost Postage Worldwide
ADD TO CART
Product Details
STORMTROOPER ARMOUR KIT 1
WITHOUT HELMET
SPECIAL PACKAGE INCLUDES:
ALL TRIMMED ARMOUR PARTS
VELCRO STRAPPING KIT
STRAPPING INSTRUCTIONS
AVAILABLE IN THREE SIZES
---
---
Please Note: Stormtrooper Armour can take up to 7 working days to prepare prior to dispatch.
We are proud to present to you a Kit version of our replica Star Wars Stormtrooper Armour at The Stormtrooper Shop.
The Stormtrooper Armour Kit is made from high quality 2.5mm thick white plastic. It has been trimmed with clean edges, has no sharp corners and is supplied with our Professional Armour Strapping Kit 1 and a full strapping instruction guide.
---
WHAT YOU WILL RECEIVE
Velcro Strapping Kit

Full Strapping Instruction Guide to build your own Armour

Stormtrooper Armour Parts - Already Trimmed and Ready to Strap:
TORSO
Upper Chest

Upper Rear Back with OII detail

Abdominal Plate with Buttons, Pre-built with Canvas Belt and Ammo Belt

Lower Rear Back

2 x Drop Boxes

Thermal Detonator Canister
ARMS
2 x Shoulder Straps

2 x Shoulder Bells

Biceps - Left/Right Inner/Outer

Forearms - Left/Right Inner/Outer

2 x Hand Plates Left/Right
LEGS
Thighs - Left/Right Inner/Outer

Calves - Left/Right Inner/Outer

Right Thigh Ammo Pack

Left Knee Sniper Plate

---


HOW ORDERING WORKS

We always advise our customers to take your time and browse through the different packages we supply.

You can contact us by telephone or email at anytime for advice or support. Once you have ordered your costume you will receive a confirmation email.

This is followed by a simple multiple choice email that allows you to submit all your sizes to us. Once we have your confirmed sizes our team will start the process of assembling your Costume.

We will keep you up to date throughout the process right up to your delivery day.

---
STORMTROOPER ARMOUR SIZE GUIDE
INCHES
| | | | | | |
| --- | --- | --- | --- | --- | --- |
| Size | Height | Inside Leg | Inside Arm | Thigh Girth | Calf Girth |
| Reduced | 63-68 | 26 or less | 17 or less | 24 or less | 16 or less |
| Standard | 68-76 | 28 or less | 17 or less | 24.5 or less | 16 or less |
| Extended | 68-76 | 28 or more | 17 or more | 25 or less | 17.5 or less |
CENTIMETRES
| | | | | | |
| --- | --- | --- | --- | --- | --- |
| Size | Height | Inside Leg | Inside Arm | Thigh Girth | Calf Girth |
| Reduced | 160-173 | 65 or less | 42 or less | 61 or less | 40 or less |
| Standard | 173-198 | 70 or less | 42 or less | 62 or less | 40 or less |
| Extended | 173-198 | 70 or more | 42 or more | 63.5 or less | 43.5 or less |
---
Related Products: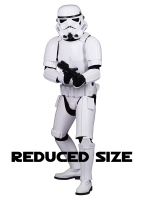 ---
---