Star Wars Stormtrooper E11 Blaster - Screen Accurate Replica Prop
---

£ 149.99

€ 179.99

$ 194.99
---
IN STOCK NOW
---
Product code: JR 2572
ADD TO CART
Product Details
Star Wars Stormtrooper E11 Blaster - Replica Prop
Check out this beautifully hand-made Stormtrooper E11 Blaster Prop.
This screen accurate Star Wars E11 Blaster is full size and perfect for trooping and costuming.
The Blaster is made from a number of different materials and components, including resin, wood, metal and piping.
All the small pieces have been securely attached to the Blaster with screws.
The Stormtrooper Shop says: This is a superb looking prop; a very well-made Stormtrooper E11 Blaster.
Related Products:
---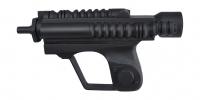 ---