News
Hand Of Korriban 01/09/2017
Welcome to another profile in our Star Wars Costuming Groups series.
Thanks to Tony for chatting to us about The Hand of Korriban.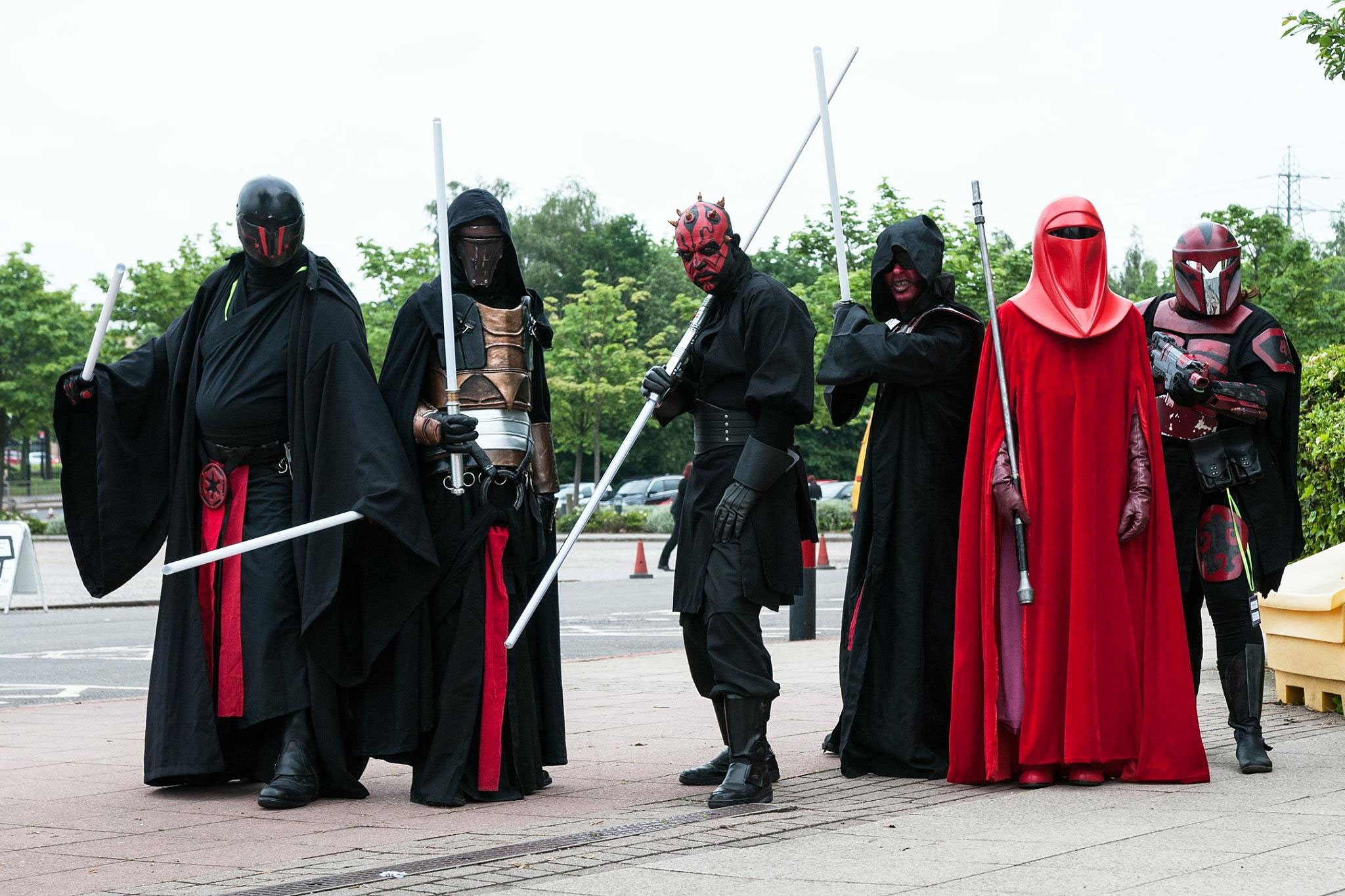 Who are you and what do you do?
The Hand of Korriban is a UK Star Wars dark side and Sith costume club for fans and community enthusiasts alike. Our aim is to gather members in attempt to portray Canon, Legend, EU and Custom costume representations of Star Wars characters.
To show our dedication and love towards the Star Wars franchise.
Our costumers love the challenge of constructing their own outfits and fine tuning the level of detail,
Our costumers enjoy the satisfaction when their hard work pays off and they can reveal their creations,
We pride ourselves in our social outreach, many of our members have known each other for a long time and shall continue to do so
Our costumers love to pose for photographs with everyone they meet at Conventions & Events,
Most importantly our costumers love to put a smile on the faces of the fans and children! If they are scared or intimidated our members will go out of their way to show the child that behind the 'scary' mask is a person just like them and with this we help develop a mutual respect for people no matter what they look like or where they come from.
And last but not least give the younger generation a taste of the vast Universe that is Star Wars!
Where are you located?
The Hand of Korriban is a UK based costuming group, with the core of it's members being from South and North Yorkshire.
How long has the group been going?
The Hand is very young being formed in July of 2015, we are now 2 years old.
How did you start?
The Hand was formed by myself and my best friend Gareth (DJ-001). HOK was originally created as an offshoot UK base for TDA (The Dark Alliance). The division soon outgrew itself as a mere attachment and the decision was made to distinguish itself as a UK only entity, thus the Hand was born. Whilst we are no longer an officially affiliated attachment of TDA we remain in close contact with our American counterpart.
How many members do you have and are you looking for more?
The Hand currently holds around 30 "Actively" designated members but also has many "Crew" that support behind the scenes. HOK also holds many "honorary" members that are members that have their own official capacity as a singular entity as well as being members of the Hand, this also includes several celebrities.
How many events do you roughly attend a year?
The amount of events we attend seem to vary depending on the "scene". Being primarily a Star Wars costuming group we aim to be at events that are relatable towards our group, though we have attended a number of different types of events, conventions and requested appearances.

We are still a very young group at only 2 years old, however during the period of 2015-2017 saw us attend more than 60 events in that 24 month period, though we only write report feeds for our larger, more successful events.
Is there a particular charity that your group supports?
There is no one singular charity we support and shall not claim affiliation with any such entities, however we do fully recognise and support: I-Cosplay Anti Bullying Campaign.

What characters are in your group?
The Hand is a Dark Side and Sith centric group, we are bad guys … so no nicey-nicey, goody goodies here (only on the inside but don't tell anyone).
Do you have Star Wars canon/non-canon (Legends) characters?
We have both Legend and Canon representations as well as custom creations submitted by our members. We do not accept the bog standard Storm-Trooper but will accept variations.
What entry requirements do you have?
We ask that our members have a minimum age of 16 but will accept younger members as "Initiates" with written permission and attendance from a legal guardian. We have no problem with members of the group bringing their children along to our troops, the same rules of etiquette apply to all whom troop alongside the Hand. Members take full responsibility for welfare of minors.
A full list of details can be found on our website and dependant on the type of submission (it is a long list), we are far more picky with our Canon submissions than we are with our customs.
We are always looking for new members.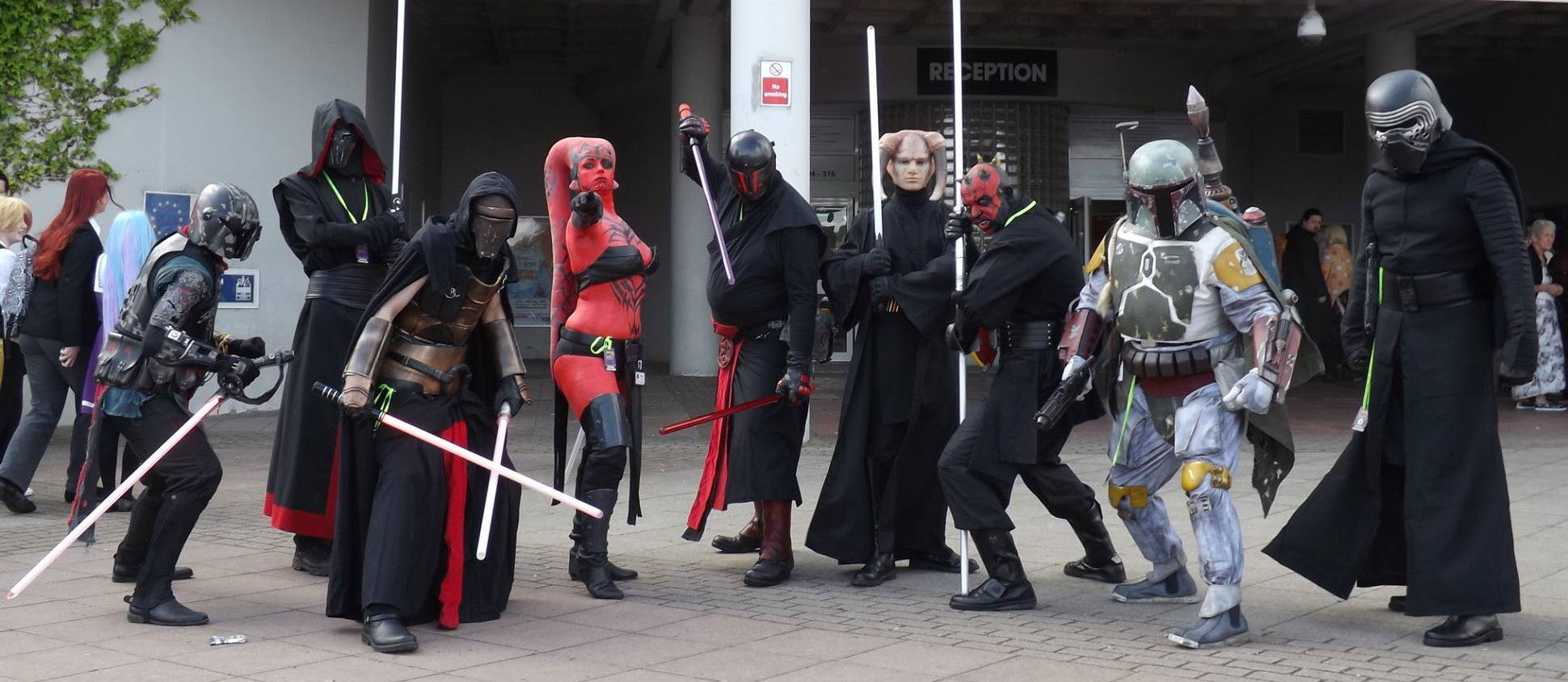 What do you love about Star Wars and cosplay?
For many of us Star Wars remains part of our childhood, that feeling of imagination that applies to everyone's core creativity. Watching the work in progress stages for me is fantastic, I love to see the creations come to life as members collect and make the parts of their costumes.

Vanity: yes I will be the first to admit that I love posing for photographs … but so do members of the public. If we can put but one smile on the face of another then it is worth the effort, we love to entertain and are more than happy to discuss our fandom in public and without shame.
What's the best thing about cosplaying for charity?
Being able to know we have put smiles on faces, be it directly for a good cause or be it simply to cheer someone up whom is having a bad day. Whatever the purpose and whatever the reason, if they are happy, we are happy
.
What advice can you give for people looking to join a costuming group?
Do your own research, I cannot stress this enough. Every group has their own rules, requirements and expectations. Canon submissions can be expensive and very time consuming, understand your own budget and abilities and always, always ask questions. You must learn to be confident and be yourself as well as presenting yourself in role as your character for best results.

Don't give up : Sometimes you may be turned down and suggestions will be given by whatever group you have submitted with. Larger groups such as the 501st WILL expect a certain level of quality in the finish of your costume, don't be put-off, listen to the suggestions and do your best to resolve them.

UK and Budget : At the Hand we also take "Custom" submissions of a said person(s) own design. If you have a smaller budget but are looking for a place to start; The Hand will see you right, we have many talented members that are crafters and artisans, we will be more than happy to advise you on a costume build or purchase for custom creations.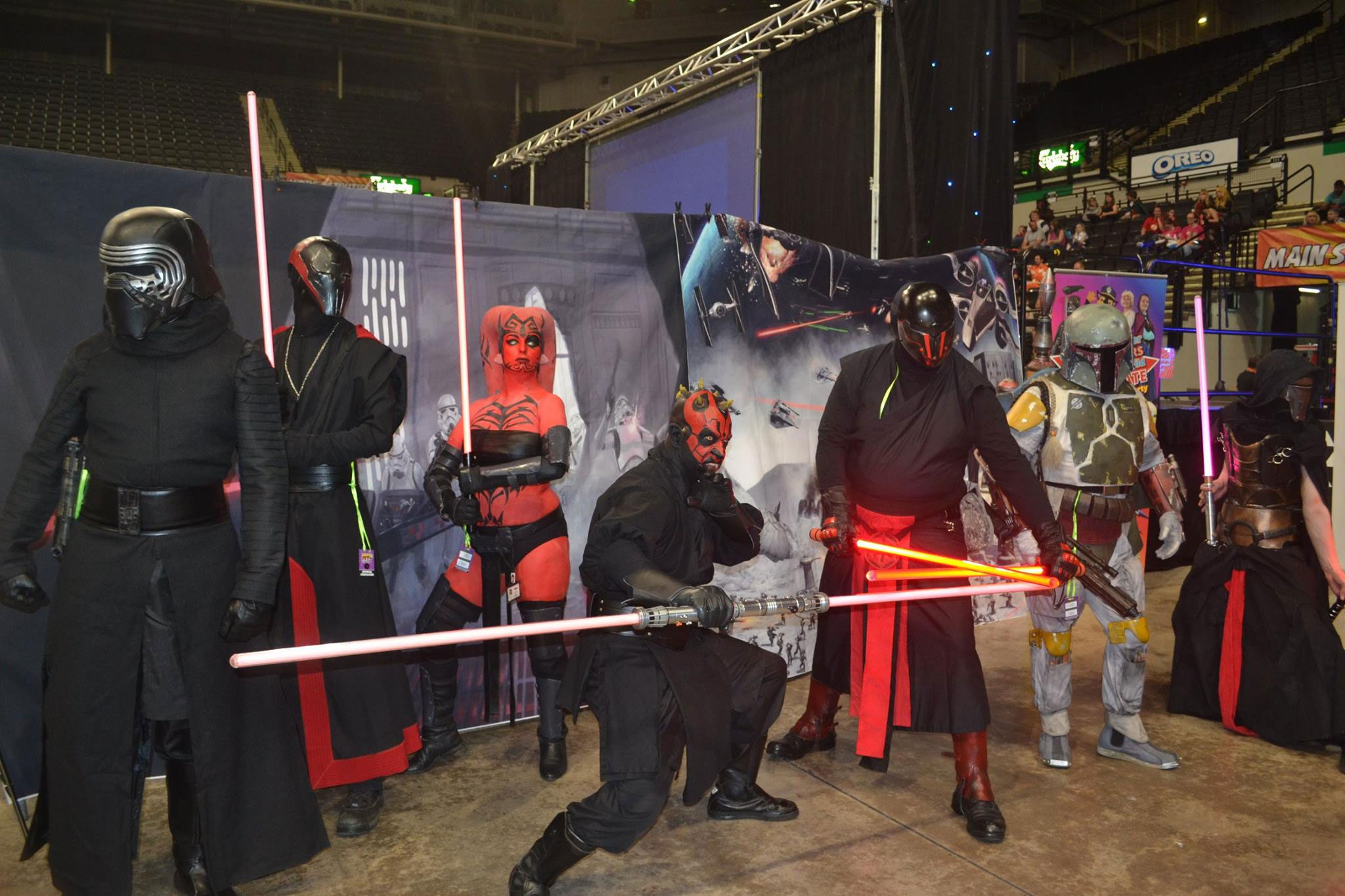 Where can people contact you to join or request an appearance?
Most of our information can be found on our main hompage along with a list of our core members and access to a submission forum along with WIP's etc. We have a calendar of events which can be accessed by our members for event signups but we also have a Facebook messenger group which our members use to keep up-to-date with current club affairs
We can be found on our main homepage www.hok.latalis.com and also on our Facebook page at www.facebook.com/HandOfKorriban
.
I would like to give a shameless shout-out to Kitty Furniss head organiser of Yorkshire Cosplay Convention for being a wonderful host and giving our group its first official "hosted" troop back in 2016. Being accepted as an official costume group in the Sheffield area has really helped our groups publicity.

If you would like us to feature YOUR costume group, please contact us for more information HERE.
Jedi-Robe.com and Stormtrooper-Costumes.com are NOT affiliated or endorsed by any Costume Group.